ENTROPY SYMPHONY: MOVEMENT ONE
May 27th, 2010
4:00pm - 4:05pm
New York City
Whitney Museum of American Art



75 people, 25 performances, all 6 levels of the Whitney, in 5 minutes.
Using Michael Asher's project of keeping the museum open for 72 straight hours as an umbrella for dialogue,
I decided to push the boundaries of the institution still further and break every museum taboo
I'd ever heard of, at once.
Entropy Symphony is the melodious cacophony from the inevitable decay of a closed system.
In other words, the music that is made when the gears momentarily grind to a halt.
The symphony was created by the sound of walkie talkies all going off at the same time
as the guards attempted to respond to 25 emergencies at once.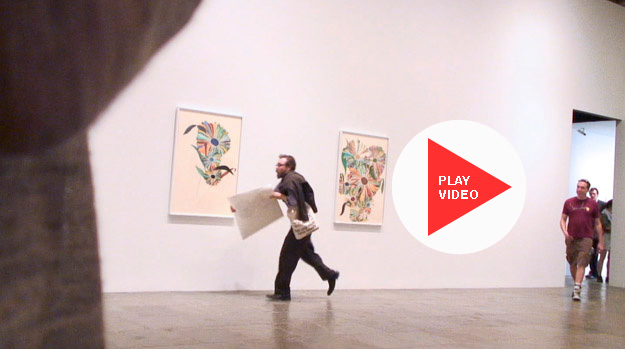 Trailer for full video, 2:14min
(in this still taken by Dominika Michalowska, I am stealing the forged Charles Ray)

The entire performance began months before May with me growing a full
(and quite shaggy) beard, as well as long hair and getting contact lenses
(which I haven't worn since high school).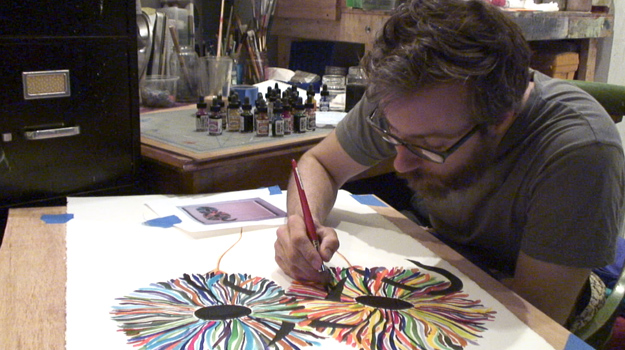 I then replicated one of Charles Ray's watercolor flowers from the biennial.
On the day of the performance I snuck the painting into the Whitney and right before 4pm,
while dressed in suit and tie, pretended to steal the fake from the wall.

I used my own mother as a concerned (and then outraged) museum patron, who began screaming,
"STOP HIM!!! HE SWITCHED THAT PAINTING!!!!!"
all the while chasing me as I made a mad dash down the stairs starting from the fourth floor.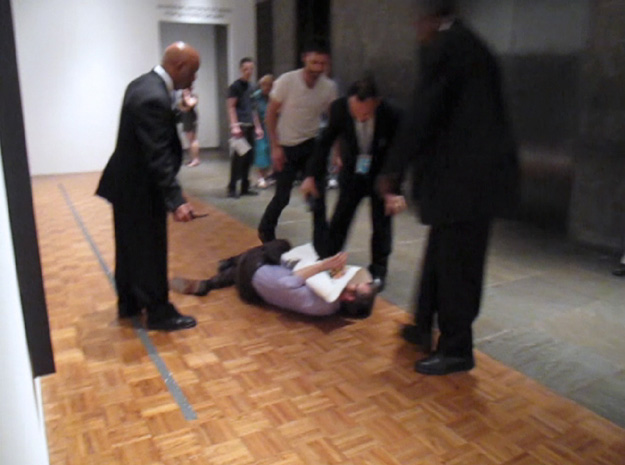 (video still by Jomar Statkun)
I made it to the second floor, with the guards hot on my trail when a
good samaritan tackled me and the guards jumped on me (ripping the painting in the process).
They hauled me up and pressed me against the wall as they inspected the damage to the faux Ray.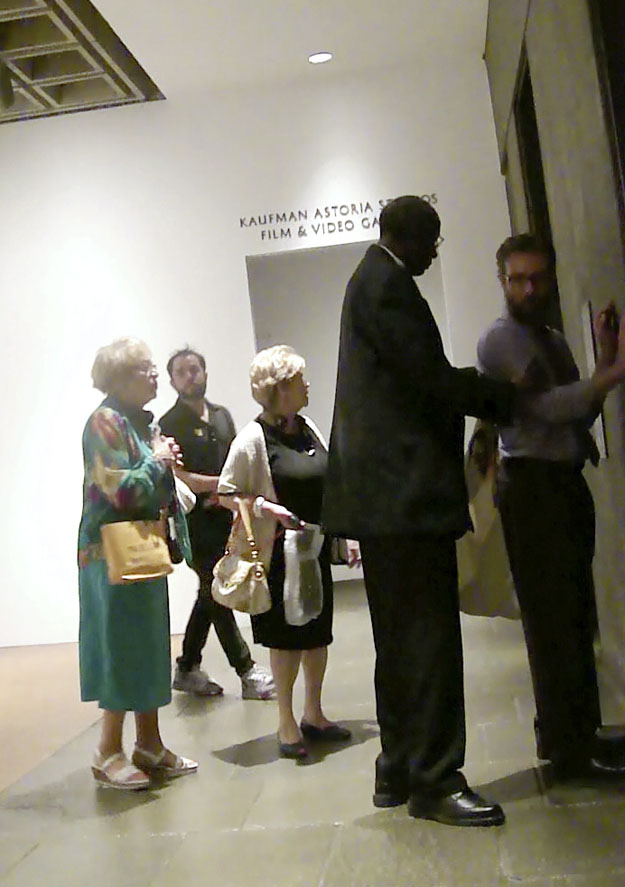 (video still by Emma Hall)
At that precise moment, the other 24 performances began on all floors of the Whitney.
Here is a an abridged list of the 25 emotionally probing and tumultuous performances: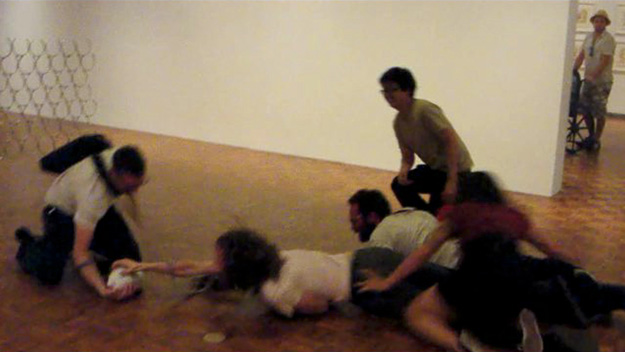 (video still by Amanda Cole)
8 people wrestle in a no holds barred scrum for a frozen duck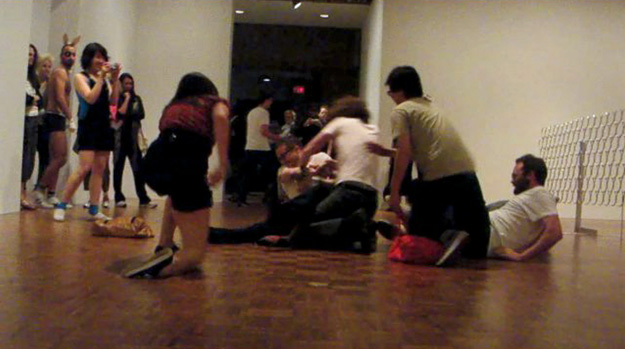 (video still by Amanda Cole)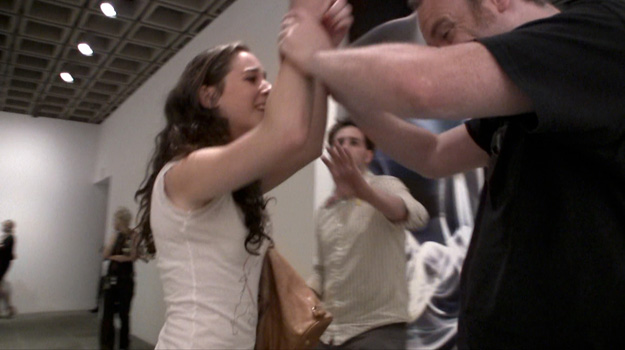 (video still by Aaron Garson)
4 different couples breaking up
-one of the couples was a lovers triangle gone wrong,
another was a couple who attempts (and succeeds!) to kiss a stranger to get back at their lover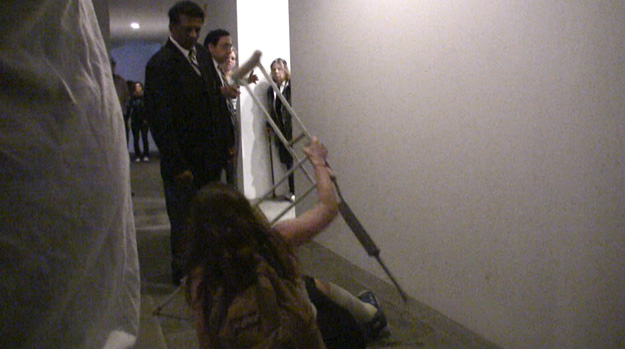 (video still by Aaron Garson)
A violent fight between two friends, one of whom happens to be on crutches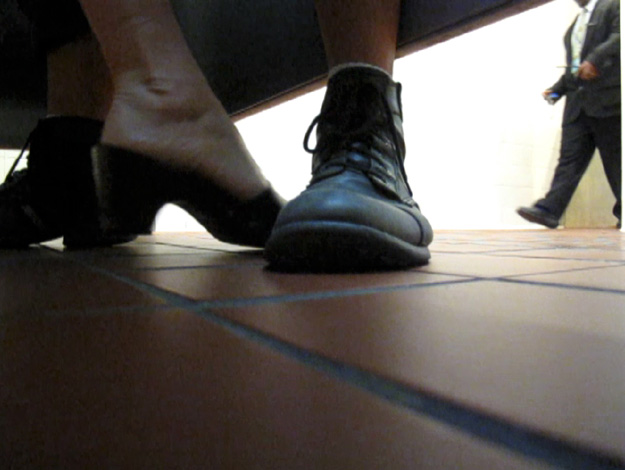 (video still by Jomar Statkun and Nadja Frank)
A couple having loud and very real sex in the men's bathroom stall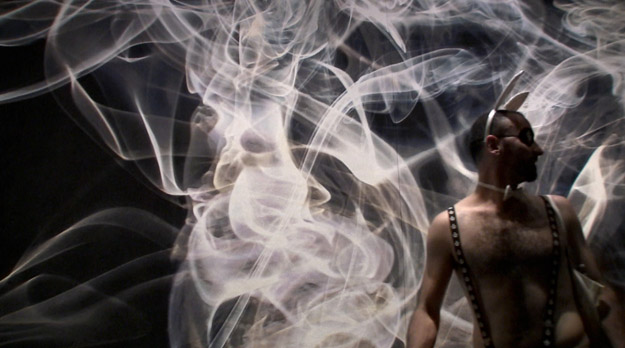 (video still by Aaron Garson)
4 people smoking in the museum (one of them as a beligerent, shoplifting drunk)
AND! a prancing sex bunny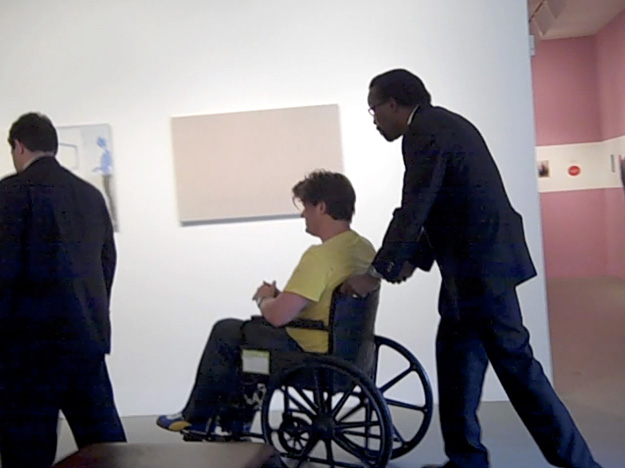 (video still by Ross Elgie)
A man had a seizure, a fake doctor attempted to help him
alas... the medical impersonator bungles the situation and places the burden of assistance on the viewers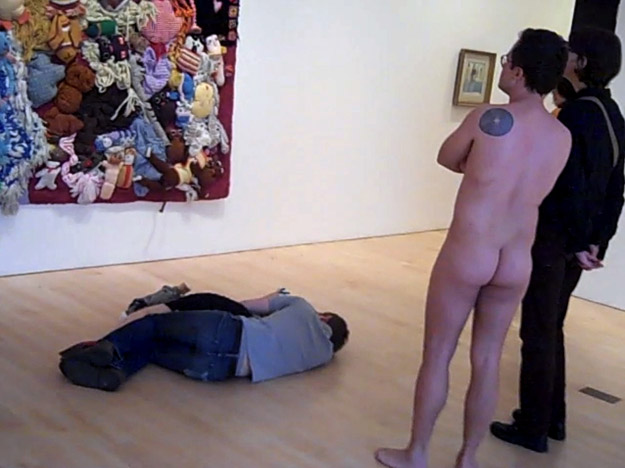 (video still by Ross Elgie)
A naked man has an art critique in the buff with a clothed opponent
while a couple spoon in front of a Mike Kelly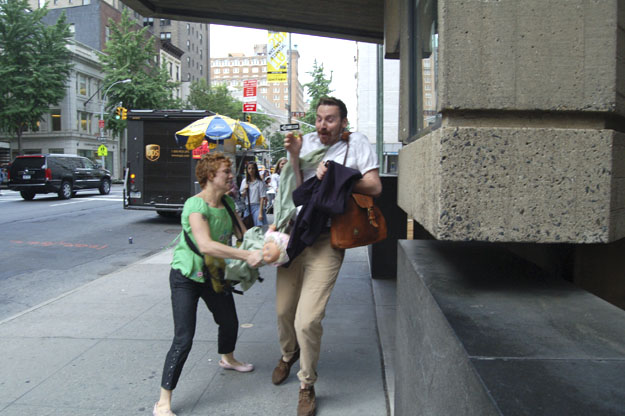 (photo by Eric Clinton Anderson)
A man spills hot coffee on an infant pressed up against a mother's breast,
they begin a massive quarrel, ending in her chasing him out of museum thrashing him with her baby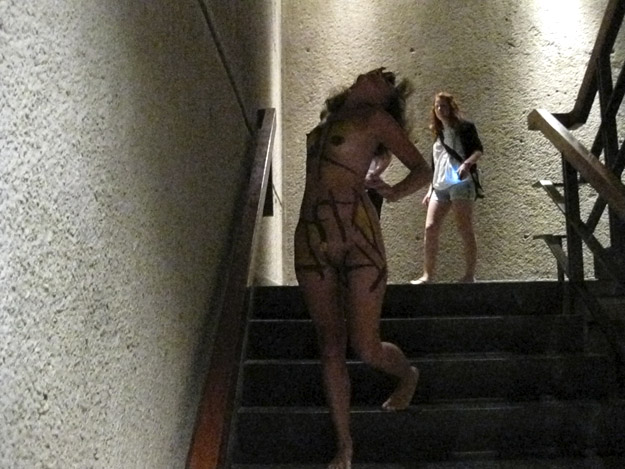 (photo still by Sarah Petersiel)
A naked woman enacts Duchamp's classic painting 'Nude Descending the Staircase' in the main stairwell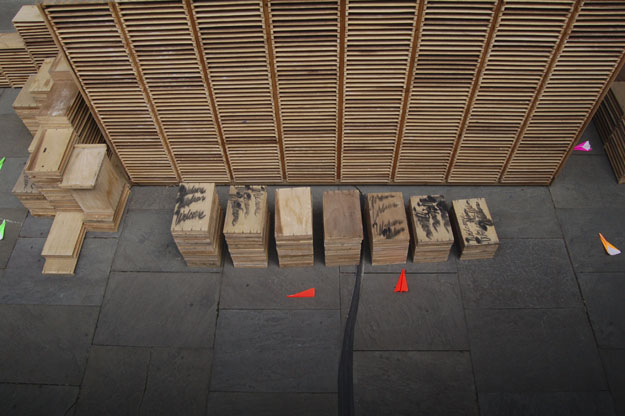 (photo by Eric Clinton Anderson)
A massive paper airplane fight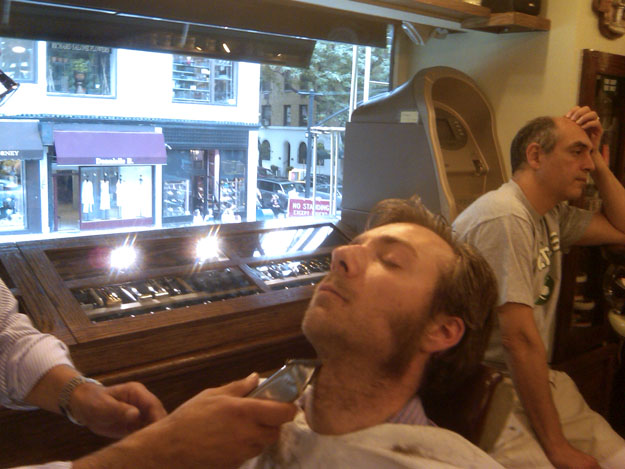 (video still by Janet Elliott)
I then got my hair cut, shaved, put my contacts in, changed clothes, posture and accent and
went back to the Whitney for another performance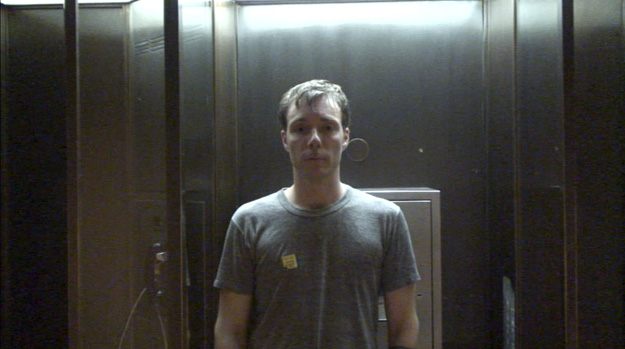 Ready for take 2
(video still by Janet Elliott)
Thank you to the most talented performers in the world:

Aaron Garson
Abagail Stahlman
Alicia Gluibizzi
Amanda Millis
Anthony Miler
Aram Jiblian
Barclay
Betsy Feinberg
Bill Santen
Courtney Comstock
Daniel Nardicio
David Dismukes
Dan Gluibizzi
Dominika Michalowska
Drea Bernardi
Ed Illades
Emilie Litzell
Emily Turonis
Emma Hall
Eugene Turonis
Gavin Todd
Grayson Cox
Hollis Witherspoon
Jacob Sharff
Janet Elliott
Jim Rich
Joe Egan
John Vitale
Jomar Statkun
Jonathon Fairhead
Josh Tierney
Lawrence Crimlis
Lia Woertendyke
Maiken Weiss
Marisa Smith
Max Woertendyke
M. Elizabeth Barrett
Melissa Skluzacek
Nadja Frank
Nick Critser
Nick Paparone
Nick Teti
Nickolaus Typaldos
Roddy Schrock
Ross Elgie
R. Scott Porter
Sara Jimenez
Sarah Petersiel
Seth Rothschild
Sue Smith
Susumu Kamijo
Talia Bailey
Tara White
Victoria Tate
Zoe Gluibizzi

...and to those who wished to remain nameless....


Also, a special thank you to the guards of the Whitney and the other staff
you have made one of my dreams come true,
thank you.



Back to Main Projects Page