FREE NUTS: REINVESTING IN HARLEM
This project was done at The Studio Museum in NYC between 11/12/09 - 3/14/09 .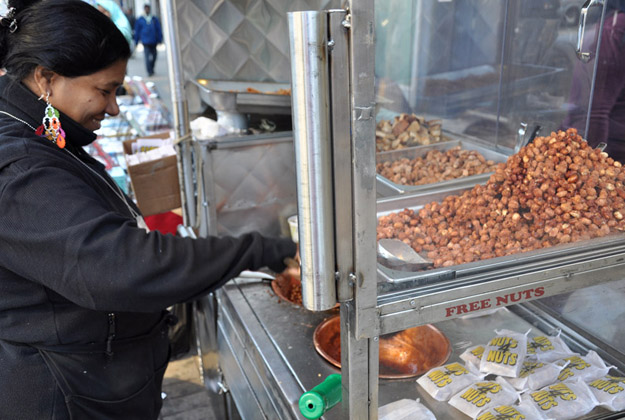 Piyara at the nutstand on 125th street
Things are grim right now.
No joke. Houses, businesses, organizations, cooperatives, institutions,
all of these things are shifting and the upshot is that people are being laid off,
houses are being foreclosed upon, banks are collecting and people are losing.
Nowhere is feeling this pinch like Harlem is right now.

When I was approached to do a postcard for the Studio Museum, I was thrilled.
Literally, my heartbeat quickened and I was smiling like an idiot. I love this museum.
Thinking about what to do for the project was a different matter though.
A million ideas popped into my head; letter to Bill Clinton's office, paper airplane outline,
finger puppets, highlight of my favorite mixed CD bought from 125th st, etc…
But above the din of this ruckus came one that immediately outshone the others.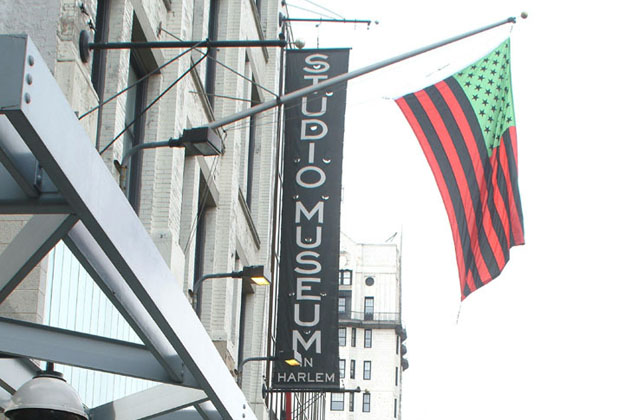 I live in Brooklyn. Harlem is an hour train ride from my house.
I am essentially a tourist to Harlem, I come, I buy a few things and leave.
I love it here, but I don't live here.
By taking the money that the Studio Museum gave me to do this project
and going back to Brooklyn to spend it in restaurants, grocery stores and rent,
I am taking money out of Harlem. This is the kind of bleeding that Harlem can't afford right now.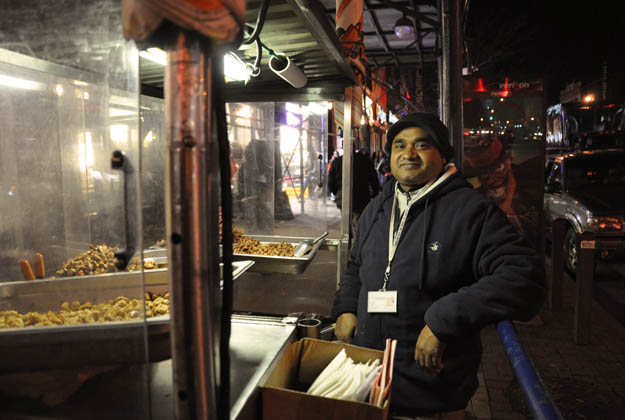 Miah at the nutstand on 125th street
"Free Nuts: Reinvesting in Harlem" is a project that I came up with
in an effort to keep money inside Harlem. I used the artist fee that Studio Museum gave me
(plus a donation from the generous art collector, E.C. Hall)
to purchase nuts from a roasted nut vendor directly outside the museum on 125th street.
The nut stand is run by a woman named Piyara and her husband Miah.
Museum goers brought a free postcard from inside and exchanged it for nuts on the street.
Back to Main Projects Page