OCULARPATION
7:30min, video
2008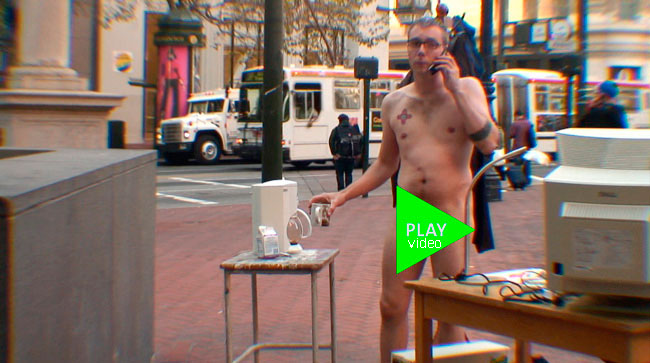 The space known as the cubicle, is one that we as a race have become very familiar with.
Three partitioned dividers, desk, monitor, phone, coffee cup. This is the modern life for untold millions across
the globe, regardless of nationality, creed, race, age, or sex. This is not a new story, it is one of the best
told of our time. Ocularpation is a retelling of this classic tale.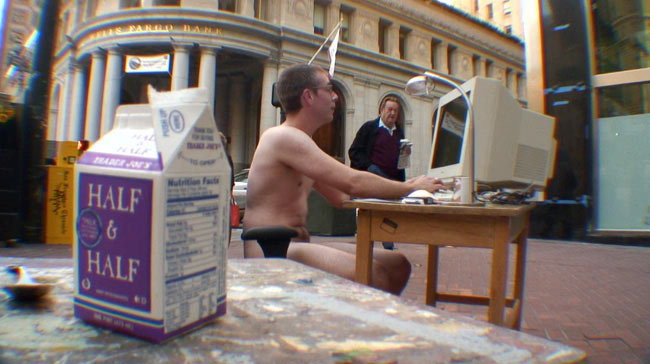 Ocularpation is a new contraction. It's root comes from occupation, with the dual connotation of both a job
done for money, as well as a military or strategic encampment. Ocular, or pertaining to the eye, cements
the meaning of the word in a visual context. This is an act of optical guerilla office bivouac.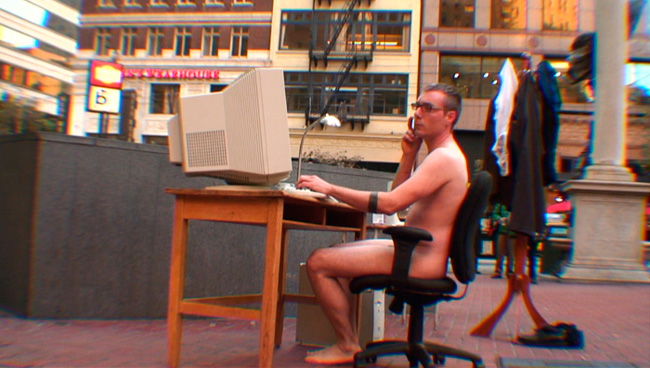 A crew of six in a white van pull up to a curb in downtown at 7:45am, Monday morning at the busiest
intersection in the city. Unloading full office accouterments, they set up a replica of the modern
cubicle in under two minutes. Situated next to the largest subway exit in the city, hundreds are
getting off the train and passing as this event unfolds. One man exits the metro in a suit and in
5 degree Celsius chill, enters the stage. Beginning with the quintessential motion of hanging up the
jacket on the coat rack, he then carries the gesture one further and removes his dress shirt and hangs
it up. The rhythmic motion continues ad absurdum, as all of his clothes come off, pants, shoes, socks,
undershirt, and finally boxers. On to the coat rack they go and off to work he goes. Coffee in hand he
begins typing and answering phone calls. Jotting notes and setting meetings. All of this within
a traditional framework of a corporate pastime, but recontextualized to the nth degree by the daft fact
that he is twofold mad, both for repurposing the office setting as well as being completely naked and
vulnerable to the world.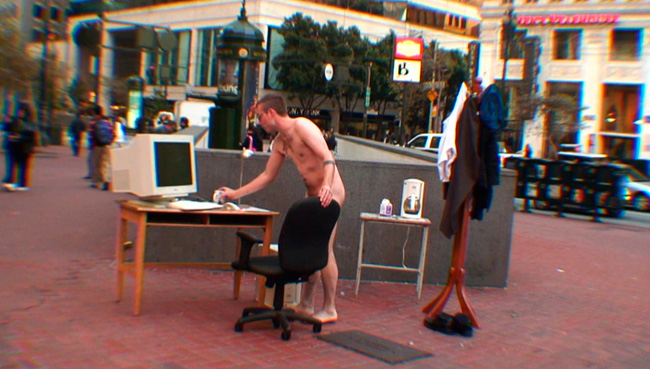 The reaction this produces in the passerby is truly the crux of this piece. Whereas some see it as a mockery,
others see it as high humor, others stop and gawk, others take cellular pictures, others couldn't be bothered
and are already at work in their mind. The insane moment blends into so many other ludicrous events in the
life of a city dweller that this becomes simply a ripple in a tumultuous sea of delirium. This desensitization
lies at the heart of the Ocularpation. What does it take to crack this office shell? How are we to advance
beyond the monitor, watercooler, and time clock? Is our very humanity slipping under the heels of pie chart
progress reports? What lies in wait for us when we've already surrendered to the fluorescent life?
Back to Main Projects Page